Video Nuze
Friday, June 17, 2011, 03:37 PM ET
posted by: Will Richmond
comScore released its May 2011 U.S. online video rankings today which once again illustrated the extent to which YouTube remains the 800-pound gorilla of the online video market. For the first time, YouTube's time spent per viewer during the month exceeded 5 hours, coming in at 5 hours, 11 minutes. That reflects nearly 2.2 billion viewing sessions generated from over 147 million unique viewers (83.5% of all Americans who watched any online video in May).
Looked at another way, YouTube's 5 hours, 11 minutes of viewership is more than the next 5 properties ranked had during the month, combined. The number 6 property, Microsoft's sites, had 46.5 million visitors for the month, less than a 1/3 of YouTube's, and 252 million viewing sessions, just 1/9 of YouTube's (see below). Hulu is the only property remotely close to YouTube in viewing time per user, racking up 3 hours, 38 minutes per viewer in May from 196 million viewing sessions. But Hulu had 28.5 million unique viewers in May, less than 1/5 of YouTube's.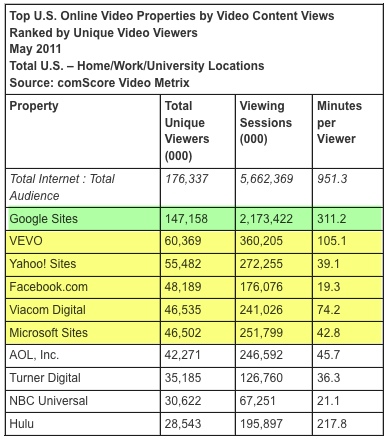 However, the story changes when looked at in terms of ads delivered. On this measure Hulu leads all sites, having delivered 1.3 billion video ads in May, over 28% of the month's total. That translated to almost 48 ads served per viewer during the month. Conversely, YouTube doesn't even show up in the list of top 10 properties by ads viewed, which is dominated by ad networks/exchanges and broadcast TV sites. However, comScore only measures in-stream ads which means none of YouTube's super-valuable masthead ads or overlays are included presumably.
YouTube's massive viewership and market share, which it has managed to maintain each month, opens up a range of options which it will implement over the long term. YouTube is prioritizing performance-based video ads, akin to its underlying search model in a bid to better tie pricing and performance. This approach will take time for media buyers to understand and adopt. And it is investing in new online-only content which will also take time to develop audience and monetize.
As Hulu and others pave the way for ads to be more accepted by online video viewers, YouTube's stands to gain significantly. All of this reinforces my thinking that the YouTube deal has been a home run for Google and will look even better over time.