The New Yorker
by John Seabrook
January 16, 2012
On TV, airtime is a scarce resource; on YouTube, it's infinite.
On a rainy night in late November, Robert Kyncl was in Google's New York City offices, on Ninth Avenue, whiteboarding the future of TV. Kyncl holds a senior position at YouTube, which Google owns. He is the architect of the single largest cultural transformation in YouTube's seven-year history. Wielding a black Magic Marker, he charted the big bang of channel expansion and audience fragmentation that has propelled television history so far, from the age of the three networks, each with a mass audience, to the hundreds of cable channels, each serving a niche audience—twenty-four-hour news, food, sports, weather, music—and on to the dawning age of Internet video, bringing channels by the tens of thousands. "People went from broad to narrow," he said, "and we think they will continue to go that way—spend more and more time in the niches—because now the distribution landscape allows for more narrowness."
Kyncl puts his whole body into his whiteboard performances, and you can almost see the champion skier he used to be. As a teen-ager in Czechoslovakia, he was sent to a state-run boarding school where talented young skiers trained for the Olympics. At eighteen, "I realized then that all I knew was skiing," he told me. After the Velvet Revolution of 1989, he applied to a program that placed Eastern Europeans in American summer camps as counsellors, and spent the summer in Charlottesville, Virginia. The following year, Kyncl went to SUNY, in New Paltz, where he majored in international relations.
People prefer niches because "the experience is more immersive," Kyncl went on. "For example, there's no horseback-riding channel on cable. Plenty of people love horseback riding, and there's plenty of advertisers who would like to market to them, but there's no channel for it, because of the costs. You have to program a 24/7 loop, and you need a transponder to get your signal up on the satellite. With the Internet, everything is on demand, so you don't have to program 24/7—a few hours is all you need."
For the past sixty years, TV executives have been making the decisions about what we watch in our living rooms. Kyncl would like to change that. Therefore YouTube, the home of grainy cell-phone videos and skateboarding dogs, is going pro. Kyncl has recruited producers, publishers, programmers, and performers from traditional media to create more than a hundred channels, most of which will début in the next six months—a sort of YouTV. Streaming video, delivered over the Internet, is about to engage traditional TV in a skirmish in the looming war for screen time.
Kyncl attacked the two-dimensional plane with his marker, schussing the media moguls, racing over and around them to the future. He drew a vertiginously plunging double-diamond run representing the dissolution of mass TV audiences as cable channels began to proliferate. Then he drew the bunny slope of Web-based channels that will further fragment audiences. According to Forrester Research, by 2016 half of all households will have Wi-Fi-enabled devices on their televisions, which will bring all those new channels into the living room, tempting people to cancel their pricey cable subscriptions. The only way for the networks and the cable companies to grow will be to buy Web-based channels.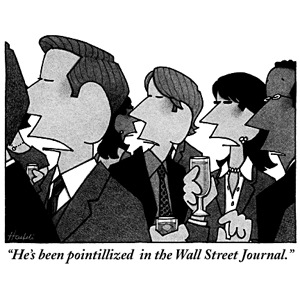 Isn't that more or less what happened thirty years ago? I asked. The networks, which had originally disparaged the new cable channels as cheap-looking and too narrowly focussed, ended up buying them when cable took off.
"Absolutely that's what happened," Kyncl said, with a slight Czech accent. "And it will happen again."
He set the marker down on the conference-room table, and smiled. YouTube had won the gold.
YouTube was created by three former employees of PayPal, in a Silicon Valley garage, in early 2005. According to two of the founders, Chad Hurley and Steven Chen, a graphic designer and a software engineer, respectively, the idea grew out of a dinner party at Chen's home in San Francisco, in the winter of 2004-05. Guests had made videos of one another, but they couldn't share them easily. The founders envisioned a video version of Flickr, a popular photo-sharing site. All the content on the site would be user-generated: "Real personal clips that are taken by everyday people," as Hurley described his vision.
The third founder, Jawed Karim, also a software engineer, had an additional source of inspiration: Janet Jackson's "wardrobe malfunction" on CBS's broadcast of the 2004 Super Bowl halftime show. The incident spawned an enormous amount of commentary, an F.C.C. fine, and a lawsuit that went all the way to the Supreme Court, but if you missed the live broadcast you were out of luck.
On the evening of April 23, 2005, Karim uploaded the first video to YouTube—an eighteen-second clip of him, standing in front of the elephant enclosure at the San Diego Zoo, wearing an ill-fitting hiking jacket. He says, "The cool thing about these guys is that they have really, really, really long trunks, and that's cool," smirks a little, and ends with "And that's pretty much all there is to say." Civilization would never be the same.
By the time a beta version of YouTube went live, in May, 2005, its archive held several dozen videos, supplied mostly by the founders and their friends; Chen contributed a couple of his cat, Stinky. Not surprisingly, traffic was light. YouTube was like "America's Funniest Home Videos," without the fun. The founders had no outside financing at the time, and they were paying for equipment and bandwidth with the payouts they had earned from PayPal when eBay bought the company, in 2002; some of the costs went on Chen's credit card. The situation looked bleak. In a video shot that month in a garage, the founders discuss their predicament. Chen says, "I was getting pretty depressed toward the end of last week." Someone says, "This is lame." The founders decided that videos of good-looking babes might help, and they placed ads on Craigslist, offering attractive women a hundred dollars for ten videos. No one responded.