March 2012

Source
Link to Topic: http://www.frankwbaker.com/mediause.htm
---

Study: One-Third of U.S. Households Watch TV Video via Internet
Almost one-third of U.S. broadband Households use the Internet to watch video on their TV sets, according to research firm Park Associates. That number is growing, with 4% of U.S. households buying a video media receiver — including Apple TV and Roku — over the 2011 holiday season, showing "a strong consumer appetite for over-the-top video, said the research firm. (Source)
---
135 million Americans play video games an hour or more each month
Parks Associates reports that 135 million people in the U.S. now play video games for at least one hour each month, compared with 56 million players in 2008. The market research firm also found that 17% of players have downloaded games to their smartphones, compared with 7% in 2008, while 80% use free-to-play games online or on their PCs
(Source via ASCD EdTech Smartbrief newsletter)

---

TV Watching: Youth Are Doing it More on Mobile Devices
Television is America's No. 1 pastime, with an average of four hours and 39 minutes consumed by every person every day. But more and more young people are tuning in elsewhere. Americans ages 12 to 34 are spending less time in front of TV sets, even as those 35 and older are spending more, according to research released February 9  by Nielsen. The divide along a demographic line reveals the effect of Internet videos, social networks, mobile phones and video games — in short, all the alternatives to the television set that are taking up growing slices of the American attention span. Young people are still watching the same shows, but they are streaming them on computers and phones to a greater degree than their parents or grandparents do.
But for three straight quarters, there have been declines in viewing among Americans under 35, even when DVR viewership is factored in, according to Nielsen data analyzed by The New York Times. Adults ages 25 to 34, for instance, watched about four and a half fewer hours of television in the third quarter of 2011 than at the same time in 2010 — the equivalent of about nine minutes a day. Viewers ages 12 to 17 also watched about nine fewer minutes a day. The demographic in between, those ages 18 to 24, watched about six fewer minutes a day. (Source)
---
Even in 2012, More Americans Own TVs than Cell Phones
Some 290 million Americans, in 114.7 million households, own at least one TV. Compare that with 234 million cellphone owners, 211 million Americans who are online, and the 116 million (ages 13 and up) who surf the mobile web. (Source)

| | |
| --- | --- |
| | |
| Source | |
See also How we watch TV now: Viewers are going mobile and multi-tasking
---



(source)
---

Report: U.S. Consumers Watch 16 Minutes of Online Video Ads
Monthly
With 183 million reported monthly U.S. Internet users, the figure breaks down to just under 16 minutes and 49 seconds worth of online advertising viewed per person. Of the 3.08 million minutes of online video advertising, Hulu accounted for 18.3 percent, or 565 million minutes. Tremor Video accounted for 594 million minutes (19.2 percent) and Adap.tv's ads represented 551 million minutes (17.9 percent).
U.S. adults watched 40.9 billion videos, an average of 20.5 hours per viewer. YouTube was the top online video property for the month, with 151.6 million unique viewers. The service garnered 20.5 billion video views in the month. The average viewer watched 7.4 hours on YouTube. Vevo was second, with 55.4 million viewers. Facebook (50.8 million viewers), Yahoo (50.4 million) and Viacom Digital (47.4 million) rounded out the top five. Hulu was second in engagement, with 3.3 hours watched per viewer.  (source)
---
Mobile Data Usage By Age:
Average teen girls sends/receives nearly 4k texts a month
Source
---
Pass the Remote…and the Tablet: Media Study Detects Boost in TV, Mobile Use
According to an eMarketer study of U.S. adult media habits, Americans spent an average of four hours and 34 minutes per day in front of the tube, up 10 minutes from last year (2010).
America's continued love for couch surfing combined with America's new found love for their mobile devices–with usage exceeding an hour a day–brought the overall average time spent on major media to 693 minutes per day, report the study authors at research firm eMarketer. That's over 11 hours of media time a day, folks. The figure is up from 660 minutes last year.
Internet usage was the second most popular media activity after TV watching. Americans spent an average of 167 minutes per day on the Internet in 2010, up from 155 minutes last year. 2011 was not kind to radio and print newspapers. No surprise here. Newspapers saw a four minute drop from the year previous, with a 2011 average of 26 minutes per day–half of the time Americans spend on their mobile devices. Magazines dropped from 20 minutes to 18 minutes. (Source)
---
First Ever Decline Seen in US TV Ownership

Source: http://yfrog.com/nyo2zsj?mid=5404
---
Survey reveals teens' experiences on social networking sites

The findings are detailed in a new report called "Teens, Kindness and Cruelty on Social Network Sites: How American teens navigate the new world of 'digital citizenship,'" from the Pew Research Center's Internet & American Life Project.
Social media use is widespread among teens. Fully 95 percent of all teens ages 12-17 are now online, and 80 percent of online teens are users of social media sites. Teens of all ages and backgrounds are witnessing these mean behaviors online and are reacting in a variety of ways:
Ninety percent of teen social media users say they have ignored the mean behavior they have witnessed on a social network site.

Eighty percent say they have personally defended a victim of meanness and cruelty.

Seventy-nine percent say they have told someone to stop their mean behavior on a social network site.

Twenty-one percent say they have personally joined in on the harassment of others on a social network site.
---

Online Leisure Time Up, Still Trails TV
A new study finds that after being flat for five years, the amount of leisure time that Americans spent online grew 20% a year from 2008 to 2010. The report by Needham & Co. analyst Laura Martin, based on an analysis of a U.S. Labor Department survey of 112,000 people, attributes that increase mainly to growing adoption of tablets and other mobile devices.
But leisure time spent online still amounts to just 12 minutes a day, or 4% of the five hours total leisure time that people have per day. That's because only 11% of all Americans report devoting any time to relaxing online, up from 9% in 2008. Within that subset, time spent pursuing online leisure activities was flat at 100 minutes per day between 2003 and 2010. (Source)
---
Zero to Eight: Children's Media Use in America  (Common Sense Media)
(Source)
(
Source
)
Among all children up to age 8, an average of one hour and 40 minutes is spent watching television or DVDs in a typical day, compared to 29 minutes reading or being read to, 29 minutes listening to music, 17 minutes using a computer, 14 minutes using a console or handheld video game player, and 5 minutes using a cell phone, video iPod, iPad, or similar device.

In a typical day, zero- to 1-year-olds spend more than twice as much time watching television and DVDs (53 minutes) as they do reading or being read to (23 minutes). And some young children have already begun media multitasking—23 percent of 5- to 8-year-olds use more than one medium "most" or "some" of the time.
Among the survey's key findings:
42 percent of children under 8 years old have a TV in their bedroom.

Half (52 percent) of all zero- to 8-year-olds have access to a new mobile device such as a smart phone, video iPod, or iPad/tablet.

More than a third (38 percent) of children this age have used one of these devices, including 10 percent of zero-to 1-year-olds, 39 percent of 2- to 4-year-olds, and more than half (52 percent) of 5- to 8-year-olds.

In a typical day, one in 10 zero- to 8-year-olds uses a smart phone, video iPod, iPad, or similar device to play games, watch videos, or use other apps. Those who do such activities spend an average of 43 minutes a day doing so.  (Source)
Read the summary | Download the full report
---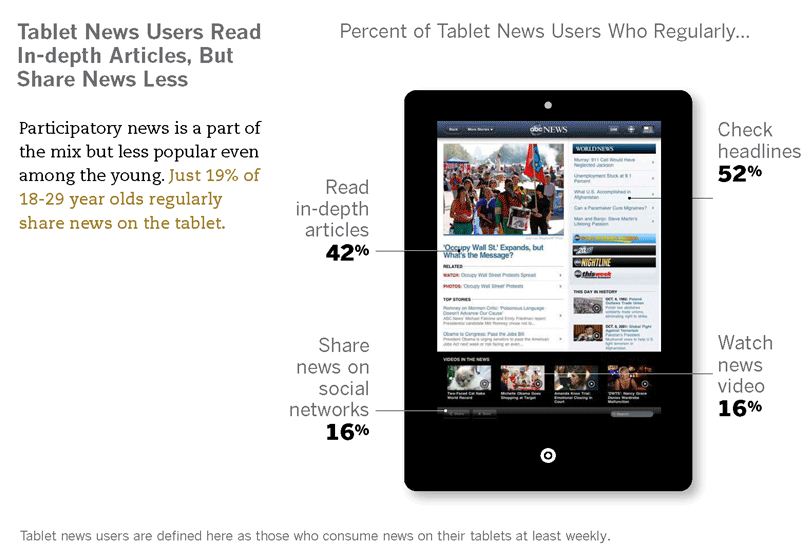 (
Source)
---
New Orleans Watches Prime-Time the Most, and Other Regional Facts of Media Life

The number of people watching time-shifted TV in the second quarter leapt 12.9% from a year earlier, even though the number of people watching TV overall only grew 0.6%, according to new research from Nielsen. (source)
---
Half Of Americans Watch Online Video: Nielsen
Internet video streaming is officially mainstream — with 48% of U.S. consumers now watching some video online — but TV remains the great American pastime, according to Nielsen's quarterly report on media consumption. Monthly time spent watching traditional TV in the second quarter of 2011 climbed 1.9%, to 146 hours and 20 minutes, a year-over-year increase of 2 hours and 43 minutes of monthly viewing, according to the Nielsen Cross-Platform Report for Q2 2011. By contrast, time spent watching video on the Internet was 4 hours and 26 minutes per month on average, up 15% from a year ago — just 3% of the time parked in front of the TV. And Americans spend more than four times watching time-shifted TV — on DVRs and video-on-demand — than watching online video, according to the Nielsen study. (Source)
---
National Newspaper Week (October 2-8, 2011)
Newspapers still have 50 million customers each weekend, and 400 million sets of eyeballs purchase a newspaper every week. Additional perspective:
10 million adults used Twitter in the last month; 164 million read a newspaper in print or online last week.
(
Source
)
---
source
Source
source
source
---

click image above to go to the full infographic  (source)
---

Americans Spend 23% of Online Time on Social Networks
Americans spend almost a quarter of their time online on social networking sites, says a Nielsen report released September 12. According to the report — which combines data from Nielsen mobile and online meters, buzz data and a survey — Internet users spend more than twice as much time on social networks (including blogs) as they do on online games, the next top web destination by time. The most popular social network as measured by Nielsen online meters is Facebook, followed by Blogger, Tumblr, Twitter and LinkedIn.
(Source)
---

American Millennials Study
Millennials watch significantly less TV than Non-Millennials, says the report, watching 20-plus hours/week (26% versus 49%). When not watching live TV, Millennials are much more likely to watch shows mainly on their laptops (42% versus 18%), with DVR (40% versus 36%), or On-Demand (26% versus 18%) (
Source
)
---
TV & Video Consumer Trend Report 2011
ConsumerLab has released the results of its annual study TV & Video Consumer Trend Report 2011, which reveals that people are spending slightly less time watching scheduled broadcast TV, and that they are spending more time watching streamed on-demand TV online. More than 44 (38) percent of the respondents reported watching Internet-based on-demand TV more than once per week, while about 80 percent watch broadcast TV more than once per week. (Source)
---
Half of Tablet Owners Watching Both TV & Films
the research firm In-Stat has found that about half of all tablet owners are watching both feature length films and TV shows on their tablet devices.
Looking at the wider tablet/smartphone universe, In-Stat found that about 86% of tablet and smartphone owners are using them to watch video and
nearly 60% of smartphone/tablet owners are viewing over-the-top video at home. (Source)

---
Half of American adults use Facebook, other social networks: Pew
Study
Social media sites continue to surge in popularity, and now half of all American adults using Facebook, MySpace and LinkedIn, according to a new survey released Friday by the Pew Research Center
.
The study reported that 65 percent of all online adults surveyed in May said they were using social networking sites, up from 61 percent a year ago. The social media users represent 50 percent of all American adults, Pew said. (Source)
---

Videogame Consoles: Top Internet Connected Device
Data from Leichtman Research Group (LRG) showed that as of February 2011, 30% of US households had at least one internet-enabled device connected to their TV, a percentage that has grown slowly but steadily over the past few years. More specifically, LGR found that while only 10% of US households had an internet-connected TV, almost a quarter (23%) had an internet-enabled game console they used to watch online video. (Source)
---
How Teens Interact With Media
Teens today are the most digitally connected generation we have ever seen. A study released in late June by Nielsen on teen media usage offers some interesting
insight into the connected people of the class of 2011. (Source)

Top Genres of Mobile Video Consumption by Reach – Mobile Video Users Ages 13-17

Mobile Media Usage by US Teens – 13-17 Mobile Users

Average Number of Monthly Texts vs. Phone Calls – US Mobile Teens Ages 13-17

---

Multitasking TV Viewers Profiled

Source
---

Minority kids spend most of their waking hours plugged in
Minority children spend an average of 13 hours a day using mobile devices, computers, TVs and other media — about 4½ hours more than white kids, says a report (Children, Media and Race: Media Use Among White, Black, Hispanic and Asian American Children ) released June 8. The findings, from Northwestern University, are being presented to childhood and telecommunications experts in Washington, D.C. (Source)
(source)
---
Seven Ways Teens Communicate
The graphic below shows daily use of a variety of communication technologies – and suggests that while text messaging as a daily activity for teens has grown astronomically over the past three years, other communicative technologies have remained relatively stable or have declined slightly, suggesting that the increase in texting has layered on top of the other modes of communication that teens employ.
(Source)
---
Kids increasingly spending time with multiple online channels

Source
---
TV Ownership Dropping

New research from the Nielsen Company found that 96.7 percent of American homes have at least one television, down from 98.9 percent the last time Nielsen took count. This is the first time in 20 years that TV ownership has declined. Nielsen partly blames the drop on poverty combined with broadcast television's switch from analog to digital.
(Source)
---
Time Spent Watching TV

Television Bureau of Advertising's analysis: Traditionally, women in TV households have spent the most time viewing the tube, averaging more than 5 hours a day in recent years. Men are next, with more than 4.5 hours of daily viewing since 2005. Teens and children have been viewing at about the same levels, nearing the 3.5 hour mark. In 2009, men increased to 4:54. Women, still No. 1, increased to 5:31. Teens went down to 3:26, and children were up to 3:31.
(Source)
(Source)
---

America's Media Thirst Unquenchable, Claims Study

the report—The Infinite Dial 2011: Navigating Digital Platforms—Americans are spending an hour and 21 minutes more time per day with media than in 2001.
31 percent of Americans claim to own a smartphone, according to Arbitron/Edison's report, up from just 14 percent a year ago.
it found that more than half of Americans 12 and older (51 percent) use Facebook, up from 8 percent just three years ago.
total weekly usage of online radio has doubled in the past five years, netting out at 9 hours 47 minutes per week. In fact, the audience for Web radio has
doubled every five years since 2001 and now exceeds 57 million teens and adults each week, or 22 percent of Americans 12 and older. (Source)
---
Ad Exposure
According to Roy H. Williams, whose Wizard of Ads books I have found inspiring and helpful, "A recent Yankelovich study tells us that Americans are confronted by more than 5,000 selling messages per day – radio and television and magazines and newspapers and billboards floating on an ocean of store signage, posters, point-of-purchase displays and product packaging - each one hoping to gain our eyes, ears and attention." (Source; also cited here)
---
---
Most People Spend More Than Half Their Day Consuming Media
http://www.thewrap.com/media/column-post/people-spend-more-12-day-consuming-media-study-finds-21005
---
Average Twitter User Older Than Expected
Flowtown found that Twitters users, on average, are 39 years old, while those who use LinkedIn are an average of five years older.

Nearly half (47 percent) of all internet users between 50 and 64 years of age also have at least one social media account.
Even 26 percent of those aged 60 and above use Facebook, Twitter or another social media website on a regular basis.

A full 61 percent of all adults surveyed by Flowtown indicated that they had used social networking websites in the past,
representing an impressive rise from the 47 percent measured a year ago, in August 2009. Thirty-eight percent of adults responded
that they use social media on a daily basis.

Most interesting of all the findings is the fact that nearly four-in-ten internet users between 30 and 49 years of age use social media every day.
This proportion is six out of ten in the 18 to 29 age cohort.  (Source)
---
Adults, Cell Phones and Texting (Pew)
Texting by adults has increased over the past nine months from 65% of adults sending and receiving texts in September 2009 to 72%
texting in May 2010. Still, adults do not send nearly the same number of texts per day as teens ages 12-17, who send and receive,
on average, five times more texts per day than adult texters.
Adults who text typically send and receive a median of 10 texts a day; teens who text send and receive a median of 50 texts per day.

5% of all adult texters send more than 200 text messages a day or more than 6,000 texts a month. Fully 15% of teens ages
12-17, and 18% of adults ages 18 to 24 text message more than 200 messages a day, while just 3% of adults ages 25 to 29 do the same.
Heavy adult texters — those who send and receive more than 50 texts a day — also tend to be heavy users of voice calling.
Light texters, who exchange one to 10 texts a day, do not make up for less texting by calling more. Instead, they are light users of both calling and texting.
(Source)



---
---
Internet Use & The Elderly
In the last five years, the number of Seniors 65+ actively using the Internet grew 55% from 17.5 million
in November of 2009 up from 11.3 million in November of 2004 according to a recent survey by Nielsen.
Among online visitors 65+, 88.6% say checking their personal email is their top online activity. (
Source
)
---
Middle School Student Media Consumption Study Results
According to the Ratheon study, 72 percent of U.S. middle school students spend more than three hours each day outside
of school in front of a TV, mobile phone or computer screen rather than doing homework  or other academic-related activities.
The study found that students spend a lot of time in front of a screen doing one or more of the following activities:
watching TV, playing video games, sending text messages or using the computer (for non-school related tasks). (Source)
---